Discussion Starter
·
#1
·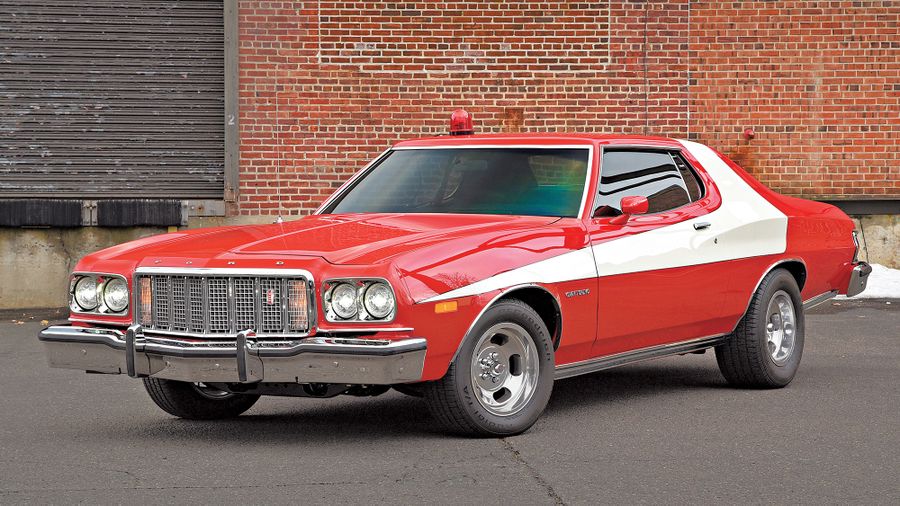 Photography by Scotty Lachenauer
It's no secret that media can have a significant influence on the young mind. Kids are just a perfect blank canvas to grab ahold of and impact, through the use of audio and visual stimulus. Today, we see that being done in continuum by way of the internet and all that it entails. The 'net is in our lives everywhere we may go—on our computers, our personal phones, and on our home entertainment systems.
However, if you were a child of the '70s, there was nothing that got your attention and dazzled you like television. Showtimes were big events, and before the heyday of VCRs, Tivo, streaming services, and other means of watching whatever we want whenever we want, TV schedules were pinned to our brains like memos to a corkboard. Television had the power to entertain, inspire, and to make us dream. Heroes and icons were created and idolized, and many of us wanted to follow in their footsteps—to be just like them.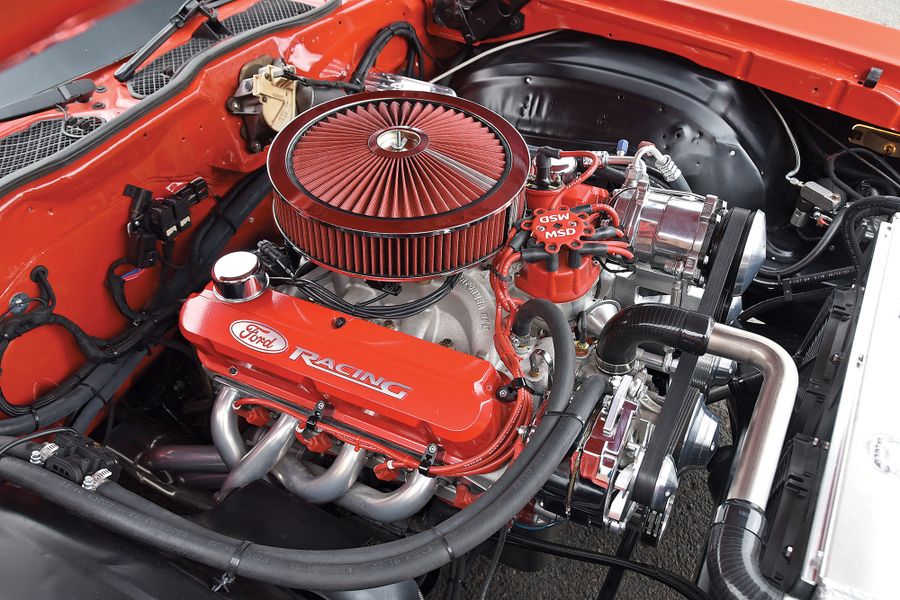 This "Striped Tomato" left the factory with a 351-cu.in. Windsor V-8, good for 152 hp. Today, it packs a 427-cu.in. Windsor, producing 539 hp at the crank.
Steve Losacco of Chatham, New Jersey, was one of those kids who fell in love with the TV shows of the day. "I was born in 1972 and grew up in the '70s and '80s. I was a fan of the shows from the era, and the TV series
Starsky & Hutch
was a big one for me. I loved that car the very first time I saw it. Yeah, 'The Striped Tomato' was one of my dream rides," Steve says. The passion he had for that particular car would play out years later, when the youngster grew of age and earned his own license to drive.
As long as he can remember, Steve has had a love of everything car related. "It started with Matchbox, Hot Wheels, and AFX slot cars, and then progressed to gas-powered RC cars when I got older. When I hit my teens, I was engulfed in the real-deal muscle cars of the time, dreaming of the day I could have one of my very own," Steve recalls.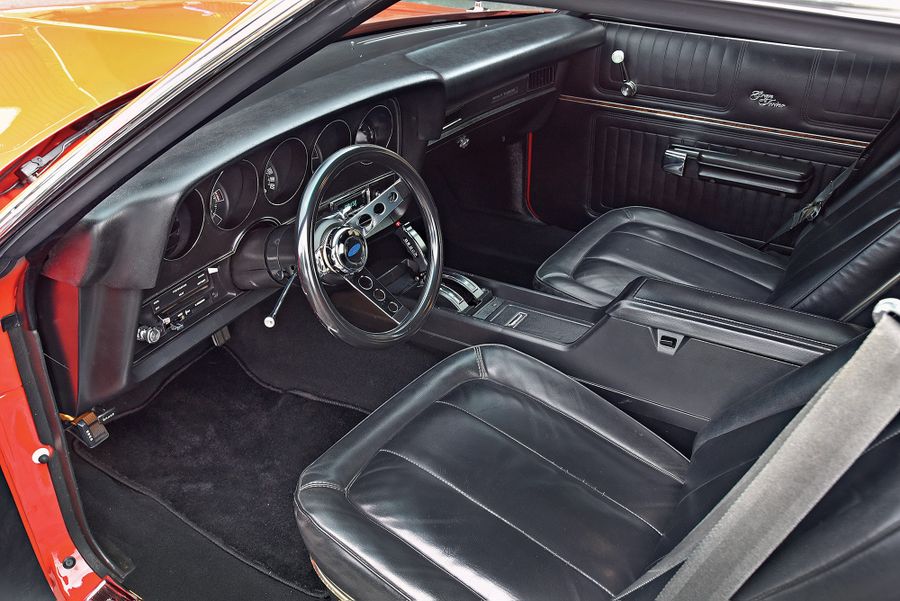 Select Shift Cruise-O-Matic transmission was replaced by a Hurst-shifted Pro Street-built Ford AOD. Aftermarket steering wheel is the most noticeable interior upgrade.
Until his late teens, Steve's family never had a new car. To keep the family on the road, his dad would typically drag home jalopies, wrench on them in the family garage, and put them back on the street. "From a really young age, I had a fascination with taking things apart and putting them back together again, so I would be out there helping my dad. I learned a lot by being his assistant," he says.
Once Steve turned 17 and got his license, he went out and scored his first car: his older brother's '79 Monte Carlo. "I immediately started making it my own. I installed a quartet of
Cragar S/S
wheels with BFG lettered tires, a dual exhaust, a set of Hooker headers, and some air shocks. It was a sweet ride." However, that car's tenure as Steve's main steed was brought to an abrupt halt when, unfortunately, the Monte was T-boned by an errant driver.
Though in the wake of misfortune, there was a shining light. Steve says, "There was a guy who lived not too far from me with a
'76 Gran Torino
that was painted almost exactly like the
Starsky & Hutch
car. There were a few differences, like a wing on the back, the wheels weren't exactly right, and there was a spoiler on the front of the hood. But it was enough to get my attention." One day, the owner was outside, so Steve inquired about the car. "His name was Sean. I asked if he would ever consider selling the car. He told me $3,000 would take it off his hands. It was more than I could afford as a kid in high school, so I chalked it up to a pipe dream."
Steve ended up patching up his injured Monte Carlo and driving it for a while longer. However, things were about to change for the recent high school grad. "One afternoon, I was in my room and my brother came in and told me to come quick, as there was something going on out front. I opened the front door and saw Sean's Torino in our driveway with a balloon attached to it. My parents bought it for me as a graduation present! I was beyond thrilled. From that day on I was known as 'Starsky!'"
Steve and his Torino would spend the next four years together. "It was my daily driver for a while, and then I stopped driving it, my head full of plans on restoring it. Then life got in the way. You know how it goes. Sadly, a decision was made and I ended up selling it. I regretted it from the day it left my driveway," Steve recalls.
Over the years, he prudently searched for a replacement. "I was older by that point, making money, so then I wanted the real deal: one of the factory-produced 'Striped Tomatoes' that Ford built in 1976. I came across a few of them over the years, but they were always in bad shape. I wasn't in a rush; I was going to take my time finding a good candidate to restore."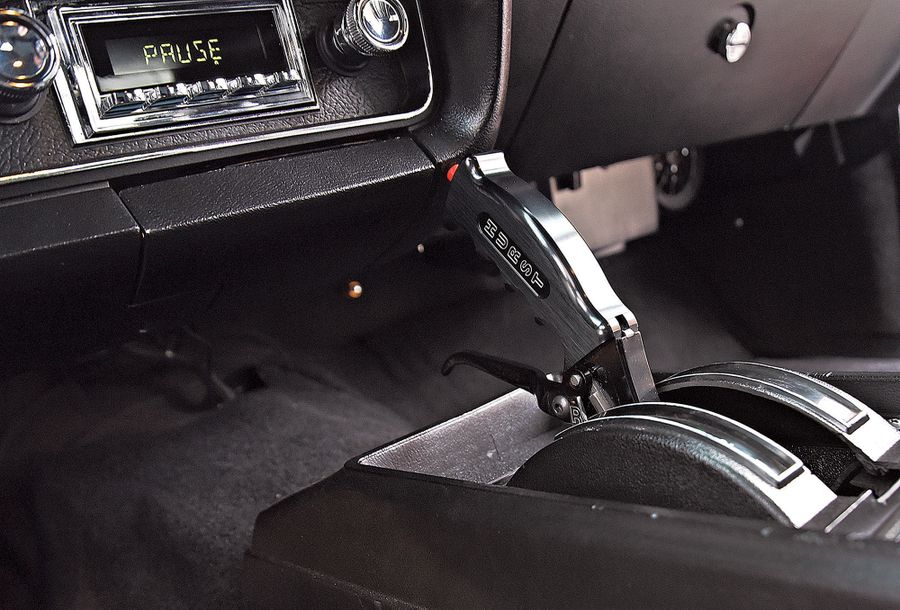 Starsky & Hutch
went on to become a big hit for ABC after it debuted in April of 1975. The following year, Ford Motor Company produced a special retail edition of the now-iconic TV car. There are conflicting reports on how many were produced, with numbers ranging from 1,000 to more than 1,300. No matter what the figure is, the special replica editions were soon sold off to eager fans wanting to mimic what their favorite heroes did on the TV screen.
Ford had ordered up a number of 1976 Gran Torinos (the last year for the model) painted in Ford Bright Red. The Wimbledon White "vector" stripes were added on the flanks to finish off the paint scheme. All
Starsky & Hutch
models were built at Ford's Chicago assembly plant in the spring of 1976 and were given the DSO numbers 0022 (US) and 8000 (Canada). The VINs on these cars start with 6G30 and carry the code PS 122 on the buck tag and build sheet. The cars came with any engine option that was offered on the Torino, which included the 351-2V, 400-2V, and the big block 460-4V engine. All were automatics, as that was the only transmission offered in '76.
Though the
Starsky & Hutch
special edition production Torinos closely resembled the TV show cars, there were some differences between them. The black outline on the vector stripe was left off on the factory cars. Since Ford did not offer an aluminum slotted wheel, buyers could only shoe their car in wheels offered on the Torino. The air shocks were not included, so if you wanted that "rake" that Starsky added to his Torino, aftermarket suspension parts were needed. Of course, none of the "police equipment" was included either. Many owners ended up hitting the aftermarket to make their cars look just like the real deal.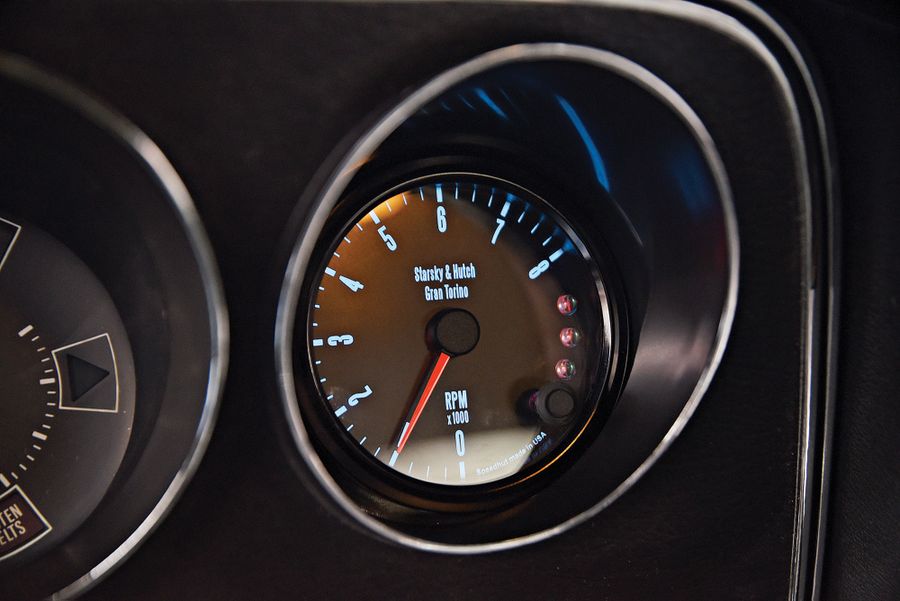 After several years of searching for the right candidate, Steve's time would finally come. "One day, I stumbled on a numbers-matching
Starsky & Hutch
Gran Torino for sale in Florida," he says. "It looked to be in great shape based on the pictures and video the seller sent me. I bought it sight unseen and had it shipped up to my shop in New Jersey. Luckily, it was just as advertised, but it still wasn't perfect. I wanted perfect, so I decided I was going to do a full-blown restoration on it."
The next day, Steve drove to his shop and got to work. "I'm in the building/contracting business and I have work space and a lift at my building. I immediately put [the Torino] on the lift and started tearing it down, right to the frame." Soon his brother and crew were alongside him helping out, stripping the car down to bare metal.
Steve found that there was some work needed. "There was a decent amount of metal work to do. I sandblasted everything that could fit in my booth, and the rest in my back lot. As a self-taught welder, I went ahead and started replacing the panels that needed help, and rebuilt the compound curved parts by hand with a body hammer and sandbag."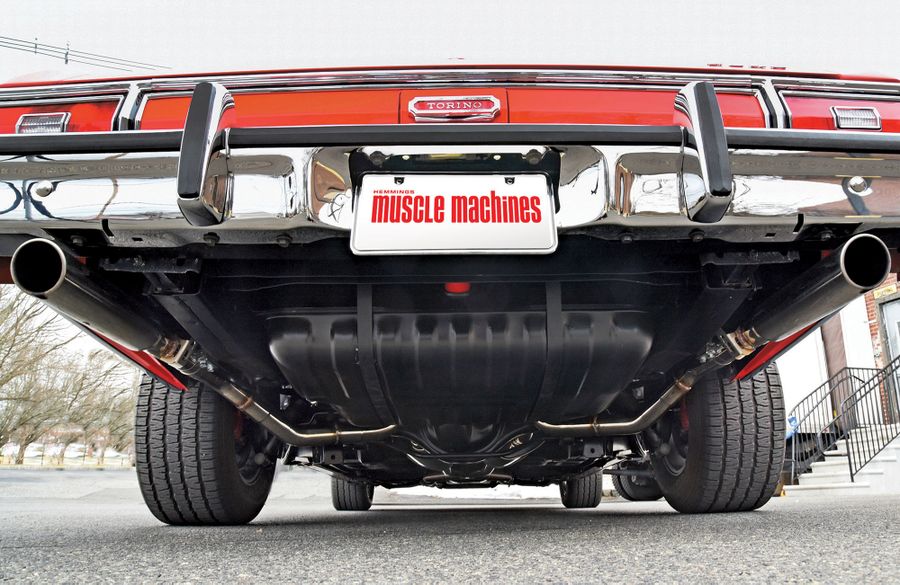 After doing a lot of the metalwork, Steve knew that he just didn't have the time, patience, expertise, or facility to do the high-end paint work he wanted. "I started looking for a proper shop to do the body and paint work. I called around and talked to a lot of shops, until I found Jesse Barratt and Jeff Manzella, co-owners of Blue Sky Performance and Restoration in Budd Lake, New Jersey. Once I met them in person, I knew my car would be in good hands."
The plan was to have the shop do all the body work, panel fitment, and paint work. From there the car would go back to Steve for final assembly. "Then, once again, I soon realized that I just didn't have the time to finish this off in the foreseeable future. I decided to let Blue Sky handle the final assembly, and I'm certainly glad I did."
However, some things did change along the way. "My original plan was to restore the car to factory condition. After giving it some thought, I decided to change the drivetrain. I pulled the anemic 351 Windsor and automatic transmission out and crated them for safekeeping, in case I ever did want to make the car 100-percent original. Then I had a new engine and transmission built, so the Torino now has a
427-cu.in. Windsor
, making 539 hp at the crank. It's mated to a Pro Street 4STB automatic with a trans brake and reverse-pattern manual valve body. A custom driveshaft feeds the original Ford 9-inch rear, rebuilt with 4.11 gears and axles by Currie Enterprises," Steve says.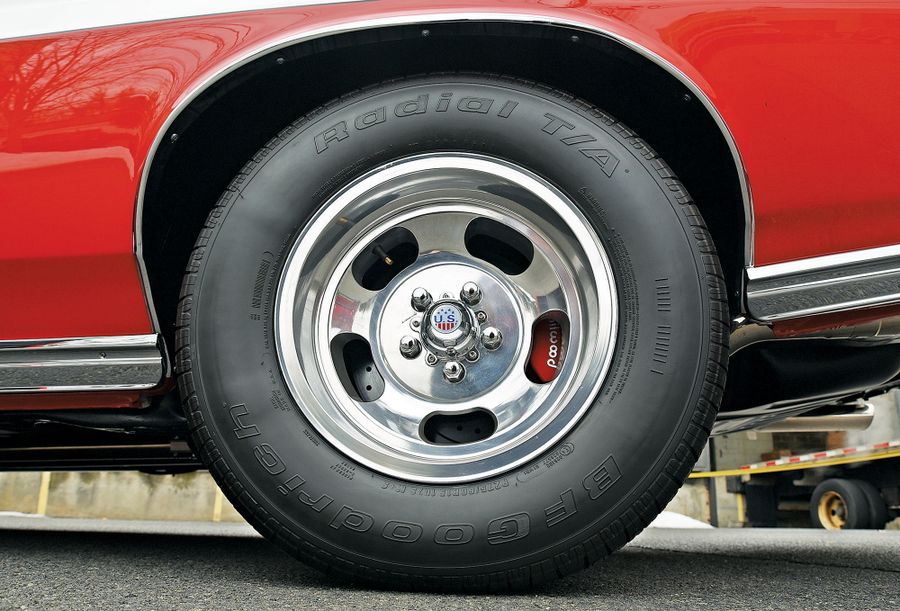 Other slight modifications include eliminating the seams under the back window and where the quarter panels meet the rockers, for an overall cleaner look. "I then boxed the rear control arms with steel plates for strength to handle the additional horsepower. I also added Wilwood disc brakes in the rear for stopping power." The interior is mostly stock, minus the steering wheel (Steve has the original) and the added Hurst shifter. "We also added air conditioning but utilized the factory controls to make it work so it would retain the stock look. I have the original radio but I decided to put in a RetroSound setup so it looked period-correct, but it's now sporting Bluetooth and much better sound."
Once it rolled out of Blue Sky, Steve put the Torino to the test. The results were exactly what he had hoped for. "The final product speaks for itself. It's exactly like I wanted it. It has tons of power and is an absolute blast to drive and own. It brings back so many great memories of my late teens and early 20s. It was totally worth the wait!"
The car was completed just in time for the annual Lead East event in New Jersey, where it was honored in the Top Custom category. As for the future, Steve plans to enjoy his new ride, and drive his Torino to local car shows in the New York/New Jersey metro area. And since he's enjoyed the experience of putting together this
Starsky & Hutch
-themed ride, plans are in the works to possibly create a 50th anniversary Pro Touring version of the iconic TV car, working again with the crew at Blue Sky — another dream that will hopefully become reality.
SPECIFICATIONS

ENGINE
Type: Ford Windsor "small-block," 351 based
Displacement: 427-cu.in.
Bore x stroke: 4.125 x 4.000 in
Compression ratio: 10.3:1
Horsepower @ rpm: 538 (rpm unknown)
Torque @ rpm: 500 lb-ft (rpm unknown)
Valvetrain: Roller rocker arms
Camshaft: 575-in lift, intake/exhaust
Fuel system: Holley Sniper EFI
Lubrication system: Melling high-volume oil pump
Exhaust system: Custom 3-in stainless steel with Kooks mufflers
TRANSMISSION
Type: Ford AOD with manual valve body.
Ratios: 1st/2.47:1 … 2nd/1.47:1 … 3rd/1.00:1 … OD/.67:1 … Reverse/2.00:1
DIFFERENTIAL
Type: Ford 9-inch with Detroit Locker differential
Ratio: 4.11:1
STEERING
Type: Stock recirculating ball, power assist
Ratio: 20:1
BRAKES
Type: Ford front disc, Wilwood rear disc
Front: 11-in, single-piston caliper
Rear: 11-in, dual-piston caliper
SUSPENSION
Front: Stock, independent; unequal-length control arms, coil springs, shocks
Rear: Stock, solid axle; four trailing arms, coil springs, shocks
WHEELS & TIRES
Wheels: U.S. Mags "Indy" aluminum
Front: 15 x 7 in
Rear: 15 x 9 in
Tires: BFGoodrich Radial T/A
Front: 255/60R15
Rear: 275/60R15
PRODUCTION
Ford Motor Company produced somewhere between 1,000-1,300
Starksy & Hutch
replica models during the 1976 model year.